Every year major platform developers, engineers and executives gather at Google I/O to discuss all the Android goodies of the year. The conference is usually held in Spring, and Google's Developers Twitter account has just sent out an encrypted message leading to a puzzle game, teasing the first clues as to when and where I/O 2018 will be held.
The tweet below was sent out at midnight and appropriately displays a binary sequence of ones and zeroes:
Plans are coming along for #io18… pic.twitter.com/48VpqvVqWU

— Google Developers (@googledevs) January 24, 2018
Translation from binary to text reveals a webpage: google.com/io (ok, could've just guessed that one). But from then on, it gets more interesting. 
The site shows a Google Maps page with a message that offers to take you behind the scenes of I/O 2018. From here on in, you're involved in a puzzle game based in Google Maps that is strewn with clues as to details of this year's event, complete with mysterious ambient music.
In the street view mode of Google Maps, you can walk into one of the company's office buildings and explore a room. Several different items have an identification icon hovering over them, including a calendar showing August 5 (which is National Sister Day), a plate of sushi, and a book titled 'Sister Carrie'.

A couple of clues from the first room / © AndroidPIT (screenshot)
To progress through the door on the other end, you are prompted to enter the city name that Google seeks. It has already been discovered, based on the sister theme of the first room's clues, that the answer is 'Iwata', Mountain View's sister city.
The next location is a meeting room. There are even more intriguing items in this room that are meant to act as hints-a pineapple cake (Android P?), a chessboard, three hundred-sided dice, a sketch of Australia, painting of Demeter (?), and more. To exit the room, you must figure out the significance of these objects to answer the question: "What three numbers do we seek?"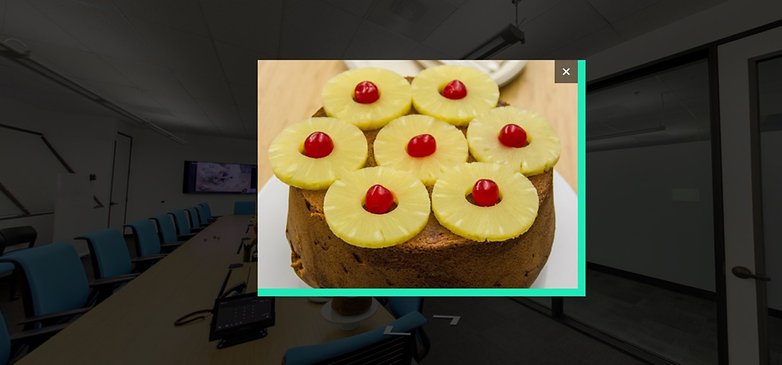 Android 9.0 Pineapple cake? / © AndroidPIT (screenshot)
Based on the interface, this is just the second room out of four, each presumably more devious than the last.
Google definitely knows how to get our attention.
What do you think?
It's easy to get sucked into Google's fiendish puzzle game, and I'd encourage you all to give it a try and see how far you can progress through the rooms. There's even an active Discord where you can join with various journalists and enthusiasts trying to crack Google's code.
Are you excited for I/O 2018? Have you spotted anything interesting in Google's puzzle?